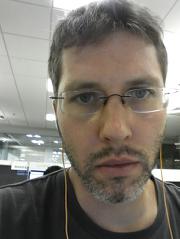 About the author

term% who
cross
term% 
  
My name is Dan Cross. I am an engineer at Oxide Computer Company. I am a xoogler. I studied Mathematics at Columbia University. I served in the United States Marine Corps. I am an amateur radio operator, and my radio page is here.
I have been on six of the seven continents; countries I have visited include Mexico, Peru, Singapore, Thailand, Israel, Jordan, Japan, Spain, Australia, England, Kyrgyzstan, Afghanistan, India, Morocco, Holland and Germany. I have transited through Canada, Ireland, Bulgaria, Belgium, Turkey and Qatar.
I've been in more than half of the states of the United States as well as Puerto Rico. I have ridden a motorcycle from California to New York.
I split my time between New York City, Cambridge, MA and India.
I am torn on the use of the Oxford comma. A humorous biography is here.